Machine de soufflement de film de laboratoire / commande de PLC
Soufflage de film par extrusion se réfère au processus technologique que le film de matière plastique à double pli réalisé par soufflant de l' air comprimé, le refroidissement de l' aube et la traction de conversion de fréquence et la matière plastique fondue en cours d' extrusion à travers des filières à une certaine température et certaine force de coupe.
La machine de soufflage de film est composée d' une extrudeuse à vis unique et une tour de soufflage de film, il est principalement utilisé pour tester la faisabilité de soufflage de film matériaux polymères et l'état colloïdal contenu dans les matériaux.
Paramètres:
1. extrudeuse à vis unique
| | |
| --- | --- |
| Screw diameter | Φ 20 |
| Length diameter ratio | 1:28 |
| Screw speed | 0 - 95 rpm frequency control |
Vis / baril alimentation materia l:
Acier au chrome-molybdène 38CrMoAl. Avec le traitement de la couche de surface de la trempe, la nitruration, le chromage, le polissage et la rectification de haute précision, la dureté HRC55 ~ 60, rugosité Ra≤0.4μm, profondeur de nitruration≥0.6mm.
Système de commande électrique:
Écran tactile couleur programmable par PLC, système d'opération d'interface homme-machine, peut dynamiquement afficher et surveiller le processus d'extrusion, y compris le contrôle de température, la conduite, la pression, la fonction d'étalement de verrouillage.
2. Film tour de soufflage
| | |
| --- | --- |
| Diameter of dies | Φ 30 |
| Driving rolling speed | 0- 5 m/min adjustable |
| Maximum folded diameter of the film | 150 mm |
| Servo motor | 90 W |
| Fan | 0.25 KW |
| Rolling torque motor | 3.5 N.m |
| Illuminating case | LED light |
Air sniffer:
L'air comprimé 0 -6 bar, peut être ajusté et stabilisé.
L' air de refroidissement:
Le débit du souffleur 30 L / min, peut être ajusté et stabilisé.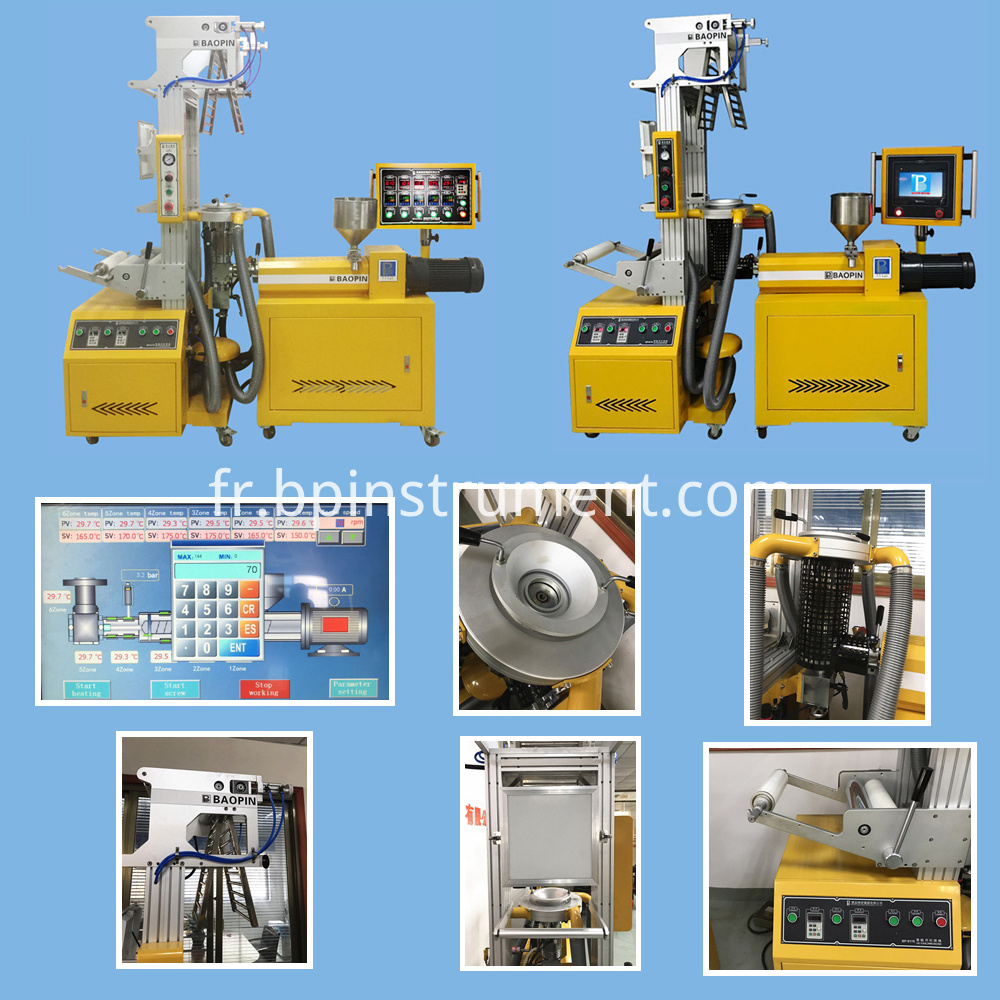 Caractéristiques
■ Cette machine dispose d'un design compact et un petit corps, n'occupant pas trop espace intérieur.
■ L'hôte et les machines auxiliaires sont un assemblage facile avec peu de matières premières. Le diamètre maximum plié du film mince peut atteindre 200 mm.
■ Cette machine est équipée de la pièce à main en évolution rapide de type C de facilité d' utilisation et le temps et essai économie de travail.
■ simple couche ou ailette de refroidissement à double couche et le contrôle de la largeur fermée -loop rainage assurer la qualité des produits fiables.
■ Le film circulation en spirale filière de soufflage de haute performance est facile à nettoyer et à entretenir.
■ La hauteur de la tour de coup de tournage peut être ajustée arbitrairement pour répondre aux exigences de test.
■ L'extrusion, la traction et au roulement ont la propriété de régulation de vitesse en continu, assurant exigences de la technologie de soufflage un film à respecter.
Groupes de Produits : Série d'extrudeuse de laboratoire