Extrudeuse à double vis à commande par ordinateur PLC
Le extrusder double vis d'écran est utilisée pour extruder du plastique fondu pour fabriquer des produits en plastique , tels que tuyaux, feuilles, de profil, et ainsi de suite. En outre, il peut être utilisé pour la granulation. Il est adapté pour le plastique PE PP. Il est avancé et de bonne qualité, avec une grande capacité de plastification et une faible consommation d'énergie.
Le contrôle de PLC de bureau extrudeuse à double vis est petite et pratique, il est le meilleur choix pour le test de laboratoire et de production à petite échelle.
Paramètres:
| | |
| --- | --- |
| Output | According to the raw material formulation process |
| Screw diameter | 20 |
| Length diameter ratio | 1:18 |
| Screw speed | 0 - 120 rpm frequency control |
| Power supply | 3 ∮, 50 Hz, 5 lines |
spécifications:
1. Direction de la vis: parallèle et la même direction
2. Composé mode: le mode de composé de la suite de vis en spirale est la construction de blocs et celle du cylindre de la machine à plusieurs sections.
3. zone de chauffage: zone de cylindre de charge comporte quatre chauffe-aluminium, 2 radiateurs dans la pièce à main et l'extérieur couvert par le capot du ventilateur de sécurité.
4. installation de refroidissement: force de ventilateur multi-ailes de refroidissement dans un état super repos.
5. Système de conduite: moteur réducteur de précision et de l' intégration de distribution de rotation de décélération.
Système de contrôle 7.Electric: écran tactile couleur programmable PLC, système d'exploitation de l' interface homme-machine.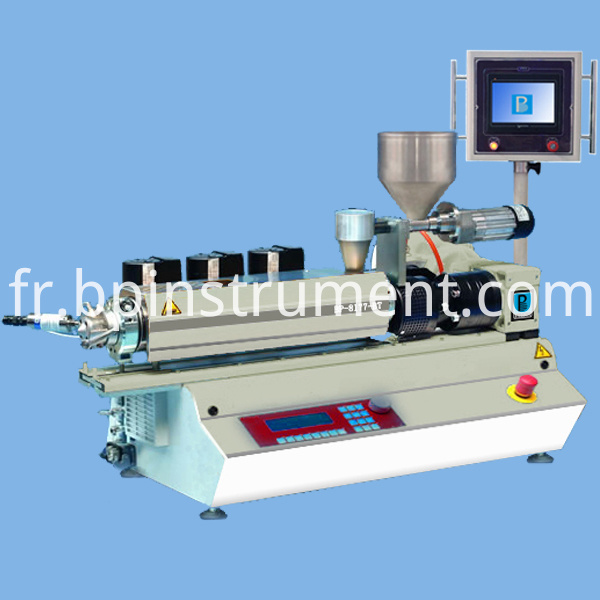 Groupes de Produits : Série d'extrudeuse de laboratoire