Extrudeuse à simple vis à l'aide d'un automate à l'automate
Bureau petite extrudeuse à vis unique eqiuipped avec système de contrôle PLC, peut définir et surveiller tous les paramètres.
The small plsatic single screw extruder is suitable for polymer processing molding, especially for a small amount of samples for scientific research and development, to simulate the plastic processing of various aspects of continuous and discontinuous process, especially suitable for the teaching and research and development.
Le plastique de bureau extrudeuse à vis unique est petite et pratique, il est le meilleur choix pour le test de laboratoire et de production à petite échelle.
Paramètres:
| | |
| --- | --- |
| Screw diameter | 20 |
| Length diameter ratio | 1:25 |
| Screw speed | 0 - 90 rpm frequency control |
| Power supply | 3 ∮, 50 Hz, 5 lines |
spécifications:
1. Matériau de vis / du canon: M ade en acier au chrome-molybdène 38CrMoAl.
2. Zone de chauffage: Quatre appareils de chauffage de mica sont dans la zone du corps de charge, un dispositif de chauffage est dans la zone de la pièce à main. Chaque zone dispose d'un ventilateur de refroidissement en cuivre recouvert d'un écran de protection contre le vent.
3. installation de refroidissement: Trois groupes de fans multi-aile pour refroidir l' air tranquillement et fermement.
4. Système de conduite: moteur réducteur de précision et de l' intégration de distribution de rotation de décélération.
Système de contrôle 5.Electric: écran tactile couleur programmable PLC, système d'exploitation de l' interface homme-machine.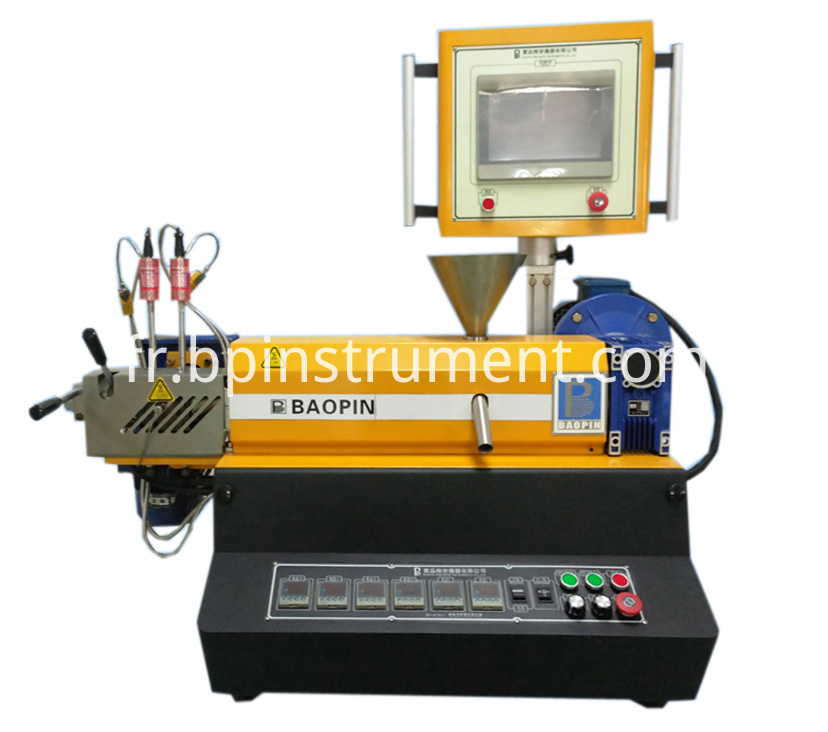 Groupes de Produits : Série d'extrudeuse de laboratoire